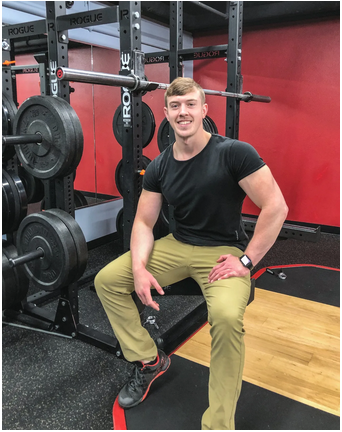 The Gym Inc. & Smoothie Plus Nutrition Store
Promotes Craig Schake to Assistant Manager
Watertown, SD (June 9, 2021) The Gym Inc. a 24 hour fitness facility and Smoothie Plus Nutrition Store, a retail provider of high quality nutritional supplements, vitamins and made to order Smoothies, announces the promotion of Craig Schake to Assistant Manager.
Mr. Schake joined the business in 2020 as a Member Services Representative and quickly became a central part of the team.
"Craig has become the go to person for questions on nutrition, supplement ingredients and to gain valuable information about which dietary products are right for you. He is also a dedicated body builder in his personal life and as a Personal Trainer; he helps his clients to achieve their goals," said Scott McInroy Owner/President, The Gym Inc. & Smoothie Plus Nutrition Store.
In addition to excelling as a Member Services Representative, Mr. Schake's areas of expertise are Personal Training, as he is certified with NSCA (National Strength and Conditioning Association) and also as a self-described Supplement Nerd at the Nutrition Store, who has a broad knowledge base of nutritional supplementation for general health and sports nutrition needs.
Mr. Schake states "I specialize in personal training for bodybuilding, power lifting, and athletic performance, along with the nutrition and supplementation that goes with it. If your goal is to gain muscle, increase strength, or improve athletic performance, I've got the knowledge and tools to help get you there."
An avid outdoorsman, Mr. Schake has a degree in Wildlife and Fisheries Sciences from South Dakota State University and is a native of Clear Lake, SD, now residing in Watertown, SD.
For more information go to www.thegyminc.com/personal-trainers or call 605-753-5600.