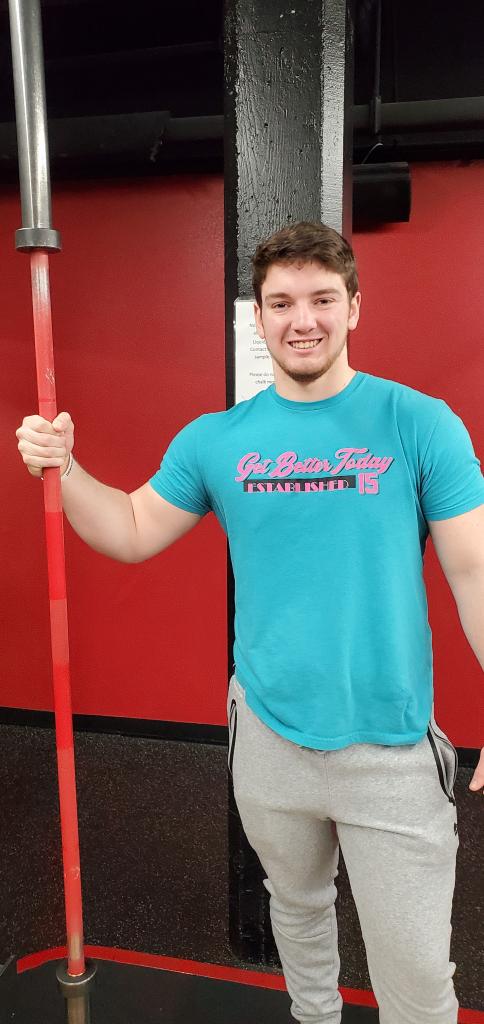 Ohio Power Bars by Rogue
What's the big deal with these Power Bars?
Powerlifting is a competitive sport that requires physical strength, but also a mental toughness to lift the maximum weight possible. It takes lots of training on proper lifting techniques and physical strength building. If you are training for a Power Lifting meet or just a recreational lifter who's challenging yourself, you sure want to be prepared by training at a gym that equips you with the best equipment needed to be ready.
Warren (pictured) is currently training for a Power Lifting Meet in Sioux Falls, and he likes powerlifting as a sport because it's a quantitative and measurable sport; basically a numbers sports. Being a sport grounded on equally measurable standards, this helps him set goals that he can work towards. Powerlifting is unlike bodybuilding in which when competing the judges are subjective in their biases as to what they are looking for. So you never know exactly who has the "right look" to win. Not so with Powerlifting, in which the weight you lift is always the weight you lift.
Here are some great reasons to use the Ohio Power Bars by Rogue available at The Gym Inc. in downtown Watertown, SD
They are comparable to most regulation competition bars.

When training for competition you get a more realistic powerlifting experience.

The knurling on the bars is a lot sharper than the average gym bars, so you get a better grip.

The knurling on the bars help them to stay put on your back.

These bars are more stable, with very little bend and less give than normal gym bars. This makes them very comparable to the Power Lifting Federation requirements in bars and other competitive Power Lifting organizations' requirements.

The stability of these bars makes your training more true to competition standards, since competition standards require a "harder to do" lifting bar. Regular gym bars give and bend which make the lift "easier to do". So if you want to be ready to compete at a Powerlifting meet, these are the bars to train on.
Warren is showing you just one of our Ohio Power Bars. Stop by The Gym Inc. for a tour and he can show you all our powerlifting equipment; such as the lifting platforms, the safety squat bar and lots more!